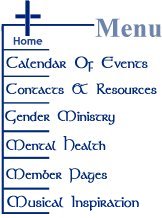 TransSupport Of Maine is a peer led support group.
We had been meeting in Brunswick, Maine for about 10 years
when I became elected to the board and became Vice President
in 1996. After six months I became President, when our
President resigned; a standard procedure for TransSupport.
My name is Antoinette Pezet, and I am the current President
of TransSupport of Maine.
In the year 2000 we moved the monthly meeting to Portland,
and althought we have met infrequently, we have succeeded
in gaining the support of the psychiatric arm of Maine Medical
Center, McGeachy Hall, where several of us were getting our
psychiactric and counseling care. We have a regular weekly
meeting led by Dr. Cynthia Boyack, PSC and Wayne Bachner, LSCW.


TransSupport advocates a treatment of G.I.D. (gender identity
disorder), proscribed by the "Dr. Harry Benjamin Standards Care
For Treatment Of Persons With G.I.D.


FMI click here or call (207)774-7029.