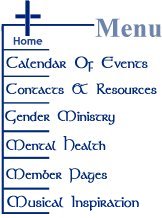 Our church has recently established a trans support ministry.
We earnestly want to help people with sexual identity issues.
Now this is an odd thing for a church to do, but here is why:
We have a young man named Eben Chadwick, who comes to our small
church as often as he has the strength to do so. He has many
problems in his life, one of the most painful is his sexual identity.
His maleness is simply in the wrong body. As we have tried to help
him over the years, we have come to realize that it is too big for
us to do alone. Too big because he needs a sex-change operation,
which neither he or we can afford, and because it's not just Eben,
there are others too.

And it's not just about operations to make the outside fit the inside.
And it's not just about people in the state of Maine.
It's bigger than all of this.